MOTOrama: IGERT bioengineering students lead outreach activities!
April 20, 2012
On Friday, April 6, four amazing bioengineering students from the University of Chicago and Northwestern University led students through day-long activities about sensation and motor control. The program, called MOTOrama, was the culminating outreach activity for the four IGERT students.
IGERT (Integrative Graduate Education and Research Traineeship) is the National Science Foundation's flagship program to train graduate students, scientists, and engineers in interdisciplinary work. As part of their work, IGERT students learn to communicate their knowledge effectively to the public and engage in outreach activities to share their work. Project Exploration is now in its second year working with the IGERT project through the University of Chicago and Northwestern University.
This year's IGERT team included:
• Chris Bresee, Northwestern University
• Gregg Tabot, University of Chicago
• Mukta Vaidya, University of Chicago
• Sarah Wohlman, Northwestern University

Working with Project Exploration, the IGERT students participated in numerous workshops this year to develop and hone their outreach skills. They also observed Sisters4Science sessions, and then developed and implemented their own outreach activities. Chris and Gregg designed a whisker-making activity to explain active and passive sensation, while Mukta and Sarah developed a chicken wing dissection activity to teach youth about motor control and movement. As their culmination outreach activity, the four bioengineering students came together to develop MOTOrama, a day-long celebration of movement and sensation!
Students were excited to learn about the big questions that bioengineering scientists are currently asking in their research. How do animals move? What does it mean to "sense" our environment? And what happens when either sensation or movement are affected?! The youth also learned about the importance of building and using models to understand complex ideas. For example, Chris and Gregg discussed with the students how making our own whiskers is a model for understanding how other organisms sense their environment. Sarah and Mukta discussed how the chicken wing is a great model for understanding muscles in other animals, especially humans.
The IGERT program is a great demonstration model of how universities and outreach programs can collaborate with one another. Graduate students through University of Chicago and Northwestern University developed outreach skills and applied them in meaningful and authentic ways with students that are traditionally underrepresented in the sciences. Project Exploration youth had opportunities to work directly with researchers that are in their local community.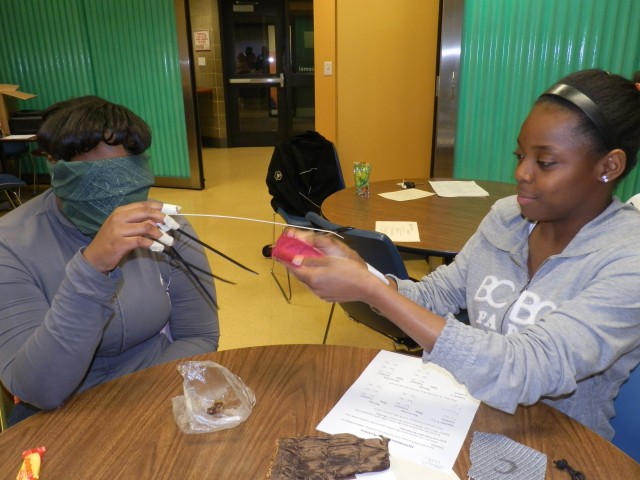 We look forward to year three with the IGERT program! Thank you to Sarah, Mukta, Chris, and Gregg for your passion and dedication to outreach! And a big thank you to the University of Chicago's Dr. Melina Hale and Dr. Carolyn Johnson for linking the IGERT students to outreach in the community through Project Exploration!